>
Home
>
Prayer Ministry
10 DAYS OF PRAYER 2023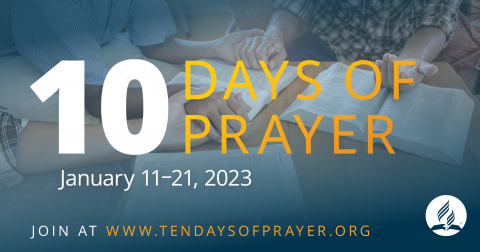 Welcome to Ten Days of Prayer 2023! We believe prayer is the birthplace of revival. God has worked so many miracles in past years as we have sought Him together in prayer and fasting. The Holy Spirit has brought about conversions, renewed passion for evangelism, revived churches, and healed relationships. 
Our Prayer Theme: Back to the Altar: Making a Place for God
Hurried and worried. Angry and upset. Busy and broken.
These are some of the words that people around the globe are using to describe their lives in today's fast-paced society. If you too are feeling the weight of our perishing world, we invite you on 10-day prayer journey to the very heart of God—the place where burdens are lifted, hurts are healed, and strength is renewed. You will be challenged to build anew your altar of personal worship to the true and living God, for He has promised, "Then you will call upon Me and go and pray to Me, and I will listen to you" (Jeremiah 29:12).
Let's pray together for a revival of our personal and family worship altars, that the Holy Spirit might reform and empower us to proclaim God's final message of hope to the world!
Join us for the daily reading
Wednesday - Friday (1/11 - 1/13) 7:30-8:30pm
Saturday (1/14) - 4-5pm
                                        Sunday - Friday (1/5 - 1/21) 7:30-8:30pm 
The Three Angels Call to Prayer
Daily reading
To read this in Spanish click here